Accommodation Website Development
Accommodation Website Design and Revamps
We ALL know there are a gazillion accommodations in the Myrtle Beach area, but what makes the better ones stand out among the rest? The word accommodate for starters, because if you're not accommodating your customers, you're failing in the accommodation business. There are a lot of accommodation websites out there, but very few of them look great and function well. If you are starting an accommodations website, whether it be a hotel website, resort website, or if you have an existing accommodations website, you'll want to make sure it has everything your potential customers want and need. And it needs to look great, too.
Also of note, besides a great website you will also want to make sure you are using a top Myrtle Beach web hosting service. The accommodation industry here is a big one and a big factor in driving up your SEO to the top over so many competitors is by having the fastest site between all of them. This also improves the customer experience and we all know Google and the other search engine giants consider user experience a top key in ranking.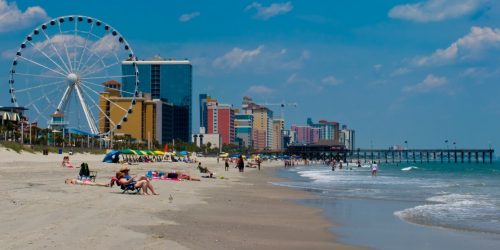 An obvious function that every accommodations website needs is online booking, but some websites still lack detailed booking functionality. When customers and potential customers leave your website to find other amenities elsewhere, you might lose the opportunity to make the sale. Even if you're working with affiliate marketing and linking, when a customer leaves your website, they might not to make the transaction because they left your website. If you want to increase your customer conversion rates, you'll want to keep potential customers on your website and close that sale. Having the ability to book accommodations directly from your site makes that possible. Surfside Web is well versed in online booking and web design for accommodations. We know the APIs and work with them often.
Because accommodations websites often pull information from other sites through API, it is important that your website have real time availability for your potential and returning customers to see what is available in the area and for the date they are interested in booking. When customers are half way through a transaction and find out that the room or flight is no longer available, it can be very frustrating for them. This causes them to not return to your accommodations website. If you want to increase your conversion and make more sales, make sure your website has real time availability information easily attainable through a professionally developed booking site. We can help you set that so that you never miss an opportunity to make a sale through your online booking website development.
Whether you're looking for website design for hotels, resort booking and web design, or something greater like custom API programming, you found us.

Contact us today to learn more and receive a quote.
Peace of Mind for Vacationers
When it comes to booking vacations and accommodations online, customers expect the highest safety and security possible. Giving strangers their credit card information is often uncomfortable for some customers, and so if you are able to offer your customers peace of mind related to the security of your website, you are more likely to increase sales and create repeat customers. Working with Surfside Web means your accommodations website design will be secure and updated regularly to meet the requirements for security. Don't leave your website exposed to potential hacks or external threats against your customers. We'll make sure your website design is wrapped up tight so you can focus on providing a great service to your customers.
Want to have the ability to take and answer questions from your potential customers in real time? We can help you do that with custom plug-ins and chat services that allow your customers to speak directly to you online. It's a great feature and provides an opportunity to keep your customers and potential customers browsing so that you see increased sales and traffic. If you want to take your accommodations website to the next level, reach out to Surfside Web today. We've got the digital tools you need to help your customers have a great vacation.