Construction Company Web Design
Construction Websites - Professional Presentation
Sure, construction workers are always getting their hands dirty on the job, but their construction company website needs to be professional. Sometimes, companies that work in the trades don't put as much emphasis on their websites as they should, but the truth is that every business needs to have a robust and appropriate construction website for their product or service.
Construction companies should be using their websites as ways to promote their business, but their website has to be relevant and professional in order to get and keep a potential client's attention. Working with a construction web development company that understands your unique needs can make all the difference in your website's functionality, presentation, and conversion rates. In other words, the better your website is, the more construction clients you will get.
One of the most important aspects of any successful business is how effectively lead generation is working. In smaller towns and cities, lead generation might come about by word-of-mouth, or referrals. But in bigger areas, construction companies rely on much more robust means to getting the word out about their business and skills. Good Myrtle Beach construction company website design should have a lead generation function: this can be an email address collection function, a "contact us" function, or a chat function. Customers need a way to contact construction companies, and a listing in the Yellow Pages alone doesn't cut it anymore.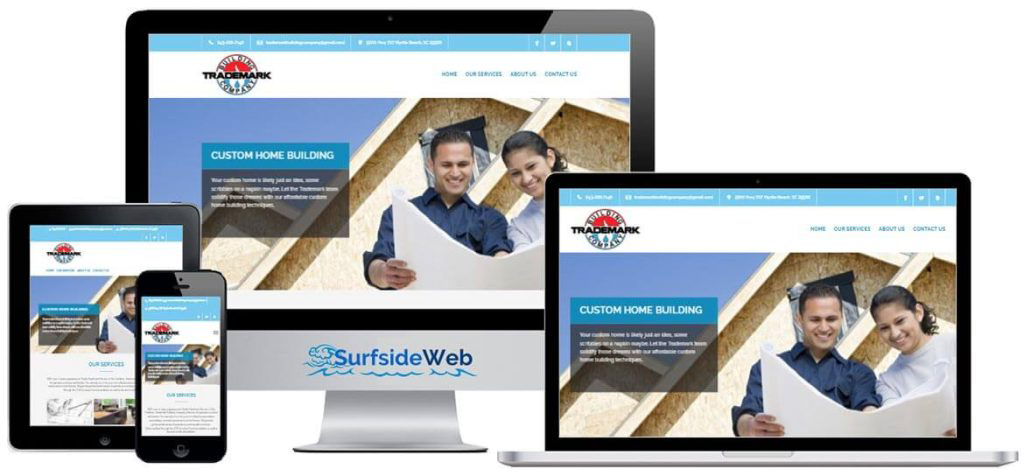 On the world wide web you have 20 seconds to make a good impression.
Let the team at Surfside Web help you to make it a great one. You'll be glad you did.
Portfolio of Completed Work
Construction companies should be showing off their work every chance they get. Potential clients want to be able to see previous work, and completed projects to decide if the style and work is the right fit for them. This is especially important to clients who are looking to work with custom home builders, or need construction companies that specialize in corporate buildings. If construction companies aren't sharing their work, they are losing out on lots of business. A professional website can help potential clients get a feel for your work, and help increase the number of lead conversions your construction company sees on a regular basis. If you want to have a great website that allows your potential customers to see lots of examples of your work, contact Surfside Web today. We can take your existing website and turn it into the website your construction company deserves.
Professional Presentation is a Must
Construction workers and construction companies work hard every day to build and renovate private homes, corporate buildings, and industrial sites. Sometimes, they even demolish a building or two in preparation for building a brand new complex or tower. Construction companies work year round, and take on any number of jobs each year. When construction companies find work lacking, they should turn to their websites to make sure it is representing them in the best light possible. Running through lead generation, professional presentation, and ensuring their portfolio of work is up-to-date are all things construction companies can do to improve business. Without a current website, construction companies lose business, and money to other companies that have taken the time to create a useful and professional website.