A target audience is a group of consumers who are identified as likely to be interested in your product or service. Many business owners base their search on key demographic traits like age, gender, location, occupation, education level and socioeconomic status. Developing a clear understanding of your target audience may be the most important thing you do for your business.
When you know which groups you want to get in front of, it saves you time, money, and resources that would be wasted on marketing to those who aren't interested in your products or services. Targeting your ideal customer doesn't have to be complicated. It's basically about narrowing down your focus while expanding your reach.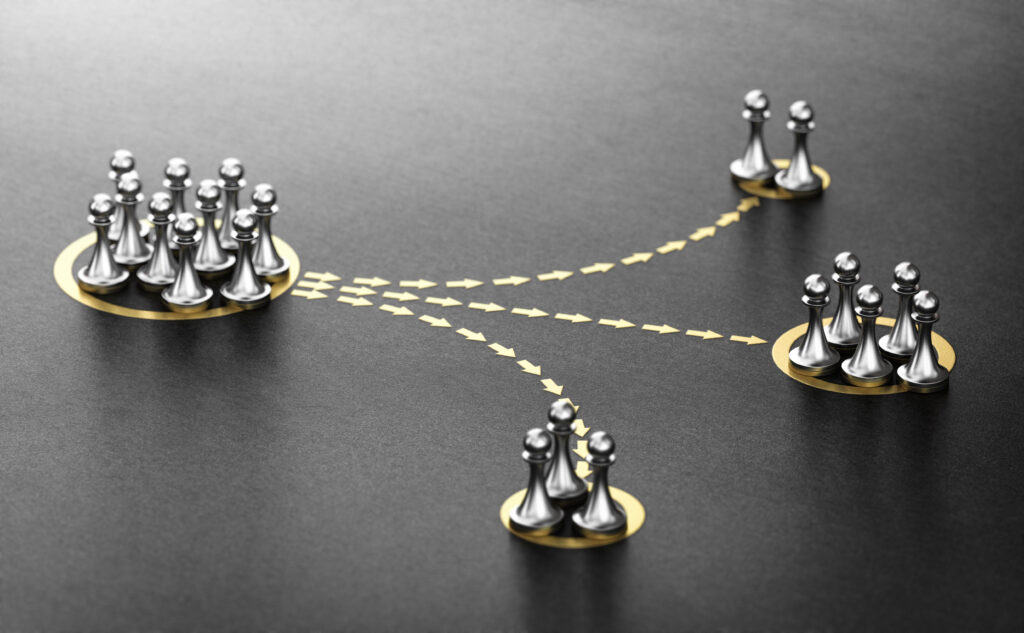 Create an ideal customer profile.
As a business owner, it is imperative to deliver the right message to the right people at the right time. To ensure that you are doing this effectively, you'll need to put together an ideal customer profile. A customer profile tells you everything about the people who are most likely going to be attracted to your offers. Consider your company objectives, who it aims to serve, and why you want to work with these customers. What age range is likely to be involved? What jobs do they have? What are their interests? How do they spend their time? Consider age, gender, or location, education level demographics.
Now, here's the part where many people say "But but but ….my audience is everyone!" Well, it probably shouldn't be "everyone." Hear us out. It's often said that if you're trying to please everyone, you're pleasing no one. Well, the same is also true for your small business marketing efforts. Sure, you might be able to get eyeballs on your content, but your message won't land with anyone if you don't have a specific audience in mind. For example, if your company is a daycare for infants in Los Angeles, your intended customer isn't going to be "everyone." Instead, your customer profile might be career driven new moms in Los Angeles. Getting clear and specific about who you are aiming to serve will help you to better streamline your communication so that those audience members feel seen, heard, and understood.
 
Determine what your audience wants.
To get to know your most likely potential customers, it's necessary to thoroughly understand what it is they want and why they would want to work with you. What are their struggles and pain points? What problems do they have that you and your business can help solve? To get a better idea of this, deeper exploration into your target market might be necessary. One thing you can do: to put it simply, ask them.
In most cases, your audience will happily let you know what they want and need from you if they have the opportunity to do so. Make it easy for them to do that. Conduct surveys and questionnaires to find out more details about your customers' needs. Monitor audience feedback, comments, and engagements. Experiment with content, then regularly review data and analytics to find out what is landing for your audience and what isn't.
Another key action to take is researching your competitors. In order to get clarity around why your target audience would want to do business with you specifically, a solid understanding of how you stand out from your competition is crucial. What do you offer that is unique or better than your competition? Come up with 1-3 reasons why you're a cut above the rest and accentuate those things in your content and marketing.
Learn what social platforms they prefer.
Not only are online social platforms one of the most cost-effective ways to boost your business, but they offer unrivaled access to your target audience. The question is, which platforms should you focus on to find and communicate with your ideal customers?
Not all platforms are created equal and these days, you can expect for each one to have their own culture, set of rules, and normalities. Most people will find themselves gravitating towards one or two rather than being active on all of them. For more established companies, see which platforms have gained you the most followers. From there, you can examine the engagement insights available to see which posts have resonated most with your audience. For newer businesses, study online behavior to determine which platforms tend to resonate most with different demographics.
The Pew Research Center has an excellent analysis of where each demographic spends their time online, as does Marketing Charts. Already, we can see a nice breakdown of the top social media platforms based on age, gender, education, and more. As illustrated, Facebook is more popular with older generations whereas Millennials and Gen Z groups tend to gravitate more toward Instagram and TikTok, respectively.
By learning about your client's online behavior, you can narrow areas of focus for marketing your products and services. Wherever your ideal audience is, that's where you, and your message, need to be.
Ready to Learn More About Your Project?
We hope you will give us the opportunity to work with you and watch your online success grow. Contact us today for a consultation and quote.